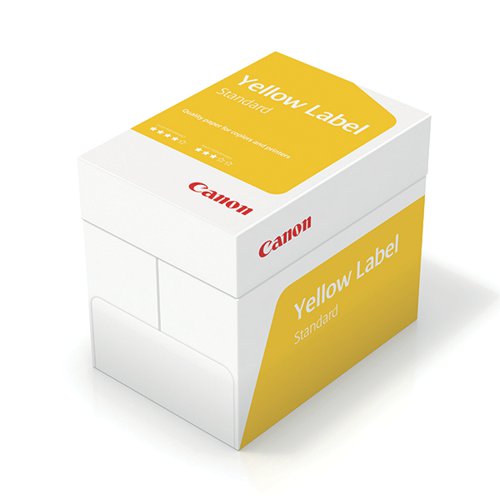 Description
Manufactured using modern filler and fibre technology, Canon Yellow Label Standard A4 paper has a smooth, uniform composition ensuring excellent print quality at all speeds. Producing high quality print in all applications, including printing, copying, inkjet and fax, this multi-purpose 80gsm Yellow Label paper is whitened using an Elemental Chlorine Free bleaching process and has a whiteness of 150 CIE.
Specifications
Biodegradable Information
Contains timber or derived materials
Brazil/Finland/Germany/Russia/Uruguay/Baltics/(Estonia,/Latvia,/Lithuania)/France/Czech/Republic/Sweden/Belgium/Poland/Denmark/Norway/Netherlands,/Can
A4 Copier Laser Inkjet Paper
Spruce/Pine/Aspen/Birch/Eculyptus/Maple/Fir/Larch/Beech/Oak/Baswood
Delivery estimates:
Items despatched from Warehouse 1: 1-3 business days
Items despatched from Warehouse 2: 2-5 business days
All Furniture and Interior items: 5-7 business days
Please Contact Us for additional delivery information specific to your order.


Product substitutes:
We reserve the right to substitute goods within your order with goods of an equivalent nature such as a blue diary for a black one, etc. If you do not wish to accept the substituted product, please notify us within 14 days of delivery.